Getting Started:
To access your Student Portal, the first step is to create a new password using the email you received. If you haven't received the email or need to change your password, please contact us, and we will gladly assist you by resending it. Once you've created your password, you can use the provided link to enter the portal. For your convenience, we recommend following the instructions below to save the student portal to the home screen of your phone, ensuring easy access whenever you need it.
Once you gain access to the portal, you can log in to:
View your calendar, which includes scheduled lessons, events, and public performances.
Access your attendance record to keep track of your attendance history.
Manage your account and make payments. (For parents or adult students with login access)
Access your assigned homework and view any additional resources.
Borrow and download library items for your musical studies.
Track your practice time, leave notes or questions for your teacher(s), and receive their valuable guidance.
Add and monitor your repertoire and online resources to enhance your musical progress.
Access your email history for important communications.
Find contact information for your teacher(s) to connect with them when needed.
Stay up-to-date with the latest news and updates from your studio.
By utilizing the Mayo School of Music Student Portal, you'll have all the tools and information at your fingertips to support your musical journey.
Anatomy of the Student Portal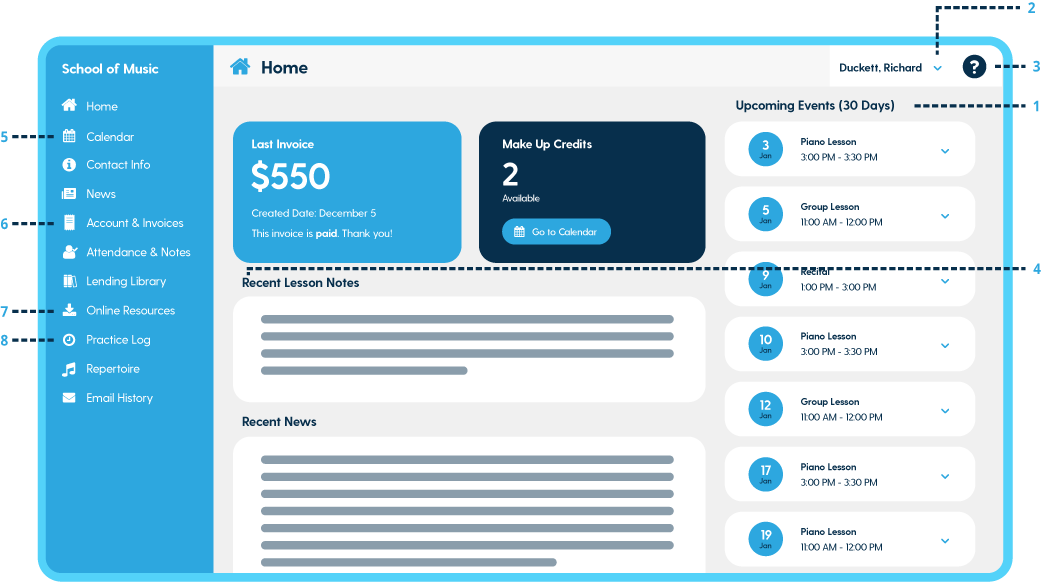 Upcoming Events - Students and parents can access a comprehensive list of scheduled lessons for the upcoming month. By clicking on an event, they can explore further details such as location, assigned repertoire, and items due from the Lending Library.
Profile Settings - Students and parents have the option to update their personal information and modify their password within this section.
Help Center - Students and parents can easily access the in-app Help Center for any inquiries regarding the usage of the Student Portal. Here, they will find answers to common questions and receive guidance.
Recent Lesson Notes - Gain quick and convenient access to the notes recorded during previous lessons, ensuring valuable insights and reminders are readily available.
Calendar - The Calendar feature serves as a centralized hub for parents and students to view their scheduled lessons, open lesson slots, and upcoming events. Additionally, users can register for or cancel lessons directly from the Calendar, while also syncing it with their personal device for seamless integration.
Account & Invoices - This menu item is exclusively visible to parents or adult students with login credentials. It allows them to access their transaction and invoice history, providing transparency and the convenience of making online payments directly from the page.
Online Resources - Students can conveniently access and download any files assigned to them, ensuring easy retrieval of supplementary materials and resources.
Practice Log - Students have the ability to meticulously track their practice sessions in the Practice Log. They can manually log their practice time, utilize the in-app practice timer for real-time tracking, and even upload files to share their progress with their instructors.
Useful Tips: