Getting Started:
To login to your Student Portal you will first need to create a new password from the email you received. If you have not received this email or you need to change your password, please get in touch and we can resend one to help get you started! Once your password is created you can use the link above to enter the portal. We recommend following the instructions below to save the student portal to the home screen of your phone for ease of access.
Once granted access you can login to:
View your calendar of scheduled lessons, events, and public events
View your attendance record
View your account & make payments - Parent / Adult login only
View your homework
View your borrowed and downloaded library items
Track your practice time and leave notes or questions for your teacher(s)
Add and track your repertoires and online resources
View your email history
View your teacher(s) contact information
Keep up-to-date with your studios news
Anatomy of the Student Portal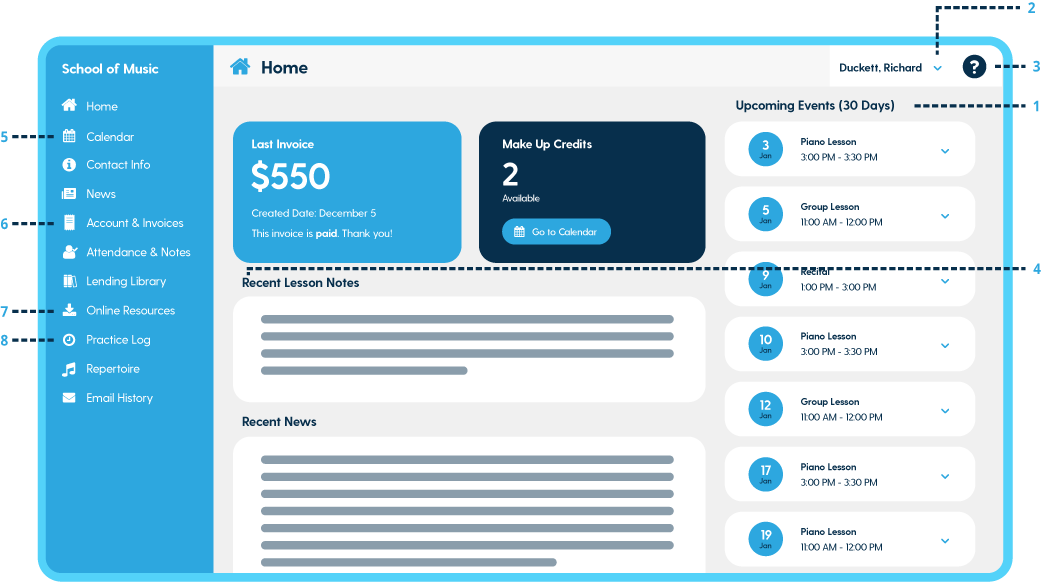 1.
Upcoming Events -
Students and parents can see a list of scheduled lessons over the next month. Clicking an event will open up more details about it, like the location, assigned repertoire, and items due from the Lending Library!
2.
Profile Settings -
s
tudents and parents can update their personal information and change their password here.
3.
Help Center -
Students and parents can click here to open the in-app Help Center. Any questions they have about how to use the Portal will be answered here.
4.
Recent Lesson Notes -
Quick and easy access to the notes you took at previous lessons!
5.
Calendar -
This is where parents and students can go to see their scheduled lessons and available open lessons or events. Registrations and cancellations can be done on the Calendar, and they can also sync their Calendar to their device!
6.
Account & Invoices -
This menu item is only visible for parent logins or adult students. They can view their transaction and invoice history.
They can also make an online payment directly from this page!
7.
Online Resources -
Any files you assign to the students will be available to view and download here.
8.
Practice Log
–
Students can log their practice time manually, use the in-app practice timer to track their practice as they go, and upload files for you to see!
Useful Tips: