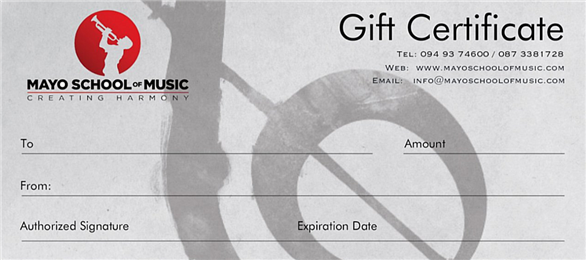 Looking for the Perfect Gift? Give the Gift of Music Lessons!
Want to express your love and thoughtfulness to a special someone? Consider gifting them a voucher for lessons at Mayo School of Music! It's the ideal present for music enthusiasts or those wanting to embark on a musical journey.
To purchase a gift voucher, simply contact us, and we will handle the arrangements to ensure the voucher reaches you promptly.
Please keep in mind: That lesson times need to be agreed upon before purchasing the voucher. We want to make sure a suitable time slot is reserved for the recipient, providing them with a seamless and convenient experience.
Give the gift that will inspire and enrich their musical talents. Contact us today to purchase a gift voucher from Mayo School of Music!